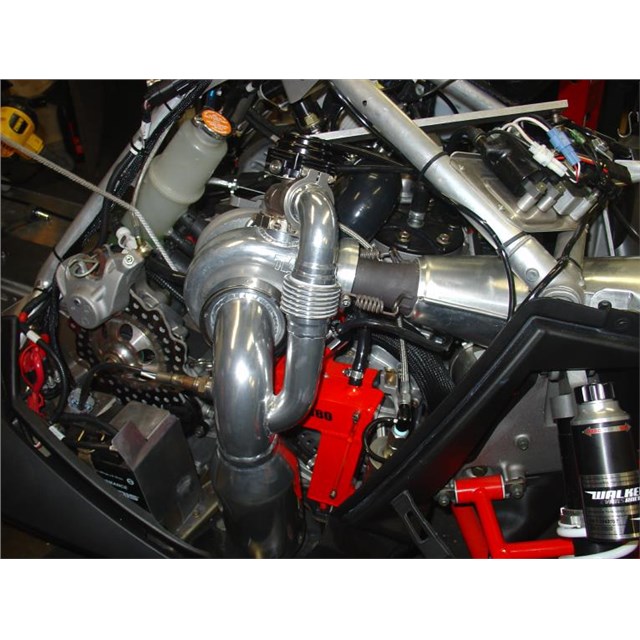 click on image for larger view
Product Description
KIT INCLUDES
NEW PUSH TURBO THE ECU by Vi-PEC (replaces stock ecu) with boost control, knock sensor, power valve control, timing, altitude compensating, extra injector wiring, Totally programmable by PUSH TURBO. NEW TRE (total reed exposure) intake manifold.
NEW 60mm Throttle body before turbo. ( TBBT ) PUSH TURBO IC system with one injector in 2.25 charge tube. ( IC=injection cooling ) NO heavy intercooler needed. Light weight turbo stand that now incorporates oil pump, oil sight level, water to oil cooler, sealed oil venting system. ( Stand holds 12 oz. of oil ) 2.5in polished stainless steel exhaust system with quiet light weight SS muffler. TiAL 28-73 with HTA BILLET COMPRESSOR WHEEL, TiAL 38 mm V-band external waste gate with actuator set to 8 + psi 200 HP On 92 pump gas. Map automatically adjusts boost. This turbo produces 20-30 ft pounds more torque than G turbo and boosts faster to set psi. Cold air intake and Frogz Skin vent kit. Air is drawn from stock location with extra venting. All other necessary components.
Plug and play electronics and components. Kit comes 80% pre-assembled with NO WELDING required. Upgradable to race gas ( info coming soon ) 210-250 + HP 1 year warranty against manufacturer defects. 2 year warranty on ECU.